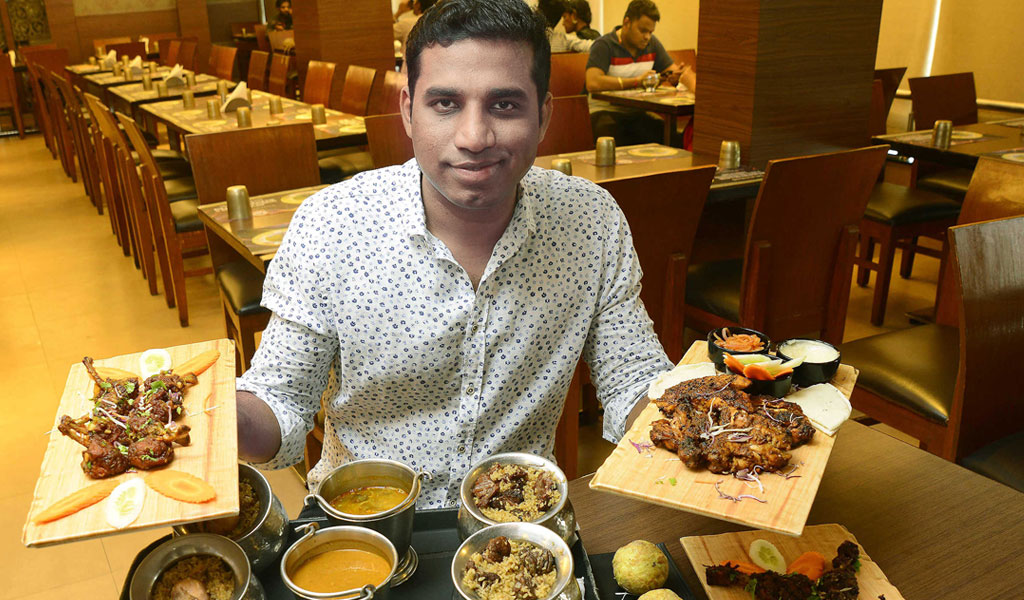 With its foreign antecedents and home-grown aroma, biryani has conquered the world. Now, Dindigul Thalappakatti has taken its version, starring seeraga samba, to the US.
Last week, a familiar scent filled a new restaurant at McCarthy Ranch Plaza, in Milpitas, California. The South Indians gathered patiently inside, all hankering for a taste of home, took a deep appreciative breath. Practically every table ordered the same item off the menu: biryani chunky with tender mutton and stocky seeraga samba rice.
Judging by social media reviews of the 400 people who ate on the first day, most were delighted about the launch of this American outpost offering typical Southern Tamil Nadu biryani. Or "namma ooru biryani" as one commentator put it on the restaurant's Facebook page.
From a tiny eight-seater restaurant in Dindigul in 1957 to a high-powered chain of 42 restaurants serving about 3.5 lakh customers across the world everyday, Dindigul Thalappakatti has come a long way. Back in Chennai, owner D Nagasamy settles down to chat about his rapidly expanding empire at his Anna Salai restaurant (one of 24 he has in Chennai) over a bowl of fragrant biryani teamed with cups of sweet, milky chai.
"We are still using my grandmother's recipe, nothing has been changed… Well, except the method of cooking. Because we now make 1,500 kilos of biryani a day in the central kitchen in Chennai alone. And 2,000 kilos on weekends." Put together, all the outlets make about 25,000 biryanis a day, which, according to Nagasamy, makes them the country's largest biryani maker. He adds, "However, we still use the same spices: cinnamon, cardamom, cloves, all hand-ground on stones with a little water to maximise flavour."
The biryani is now made in a largely automated central kitchen. "For every kilogram of rice, we use 10 grams of the spice blend. The spices are put along with onions, garlic and water into a machine to be made into a masala. It takes three hours for each cycle. At full capacity, the machine can yield 450 litres of the biryani masala. Mutton and rice are added after this."
Nagasamy pauses for a few seconds to do the math. "That much masala makes 7,000 biryanis." Which means they still have plenty of bandwidth for expansion in Chennai.
Determined to standardise flavour despite the burgeoning number of restaurants, the team is particular about ingredients and technique. The meat comes from Kannivadi, from tender grass-fed goats. (Kannivadi is a small town in Dindigul district.) The rice is a type of short grain seeraga samba, called parakkum sittu, from Tiruchi and Thuraiyur. Cinnamon comes from Theni. Combined, they create a unique style of biryani, popular in Southern Tamil Nadu. Which is why, for the past 10 years, most of their expansion has been in the State. "If you serve basmati biryani in Tiruchi, people won't accept it. They want seeraga samba," Nagasamy says.
Business was given an unexpected fillip by a rash of pretenders who used the chain's trademark name, and now-iconic logo of a turban, to advertise. "When my grandfather opened his restaurant in 1957 serving my grandmother's biryani, his customers began to call it thalapaketti because he wore a turban, so that became our logo," says Nagasamy, discussing how he advertised his first restaurant in Chennai (Anna Nagar) in 2008.
A number of other establishments then sprung up, following the same theme. "At one point, there were 70 restaurants using some version of 'thalapaketti' in their name."
Nagasamy finally went to court against Chennai-based Rawther Thalappakattu Biryani. Both sides defended their right to use the name and turban in a long-drawn legal battle from 2008 to 2013. Finally, the Intellectual Property Appellate Board ruled in favour of Dindigul's Thalappakatti, stating that Rawther's version — Thalappakattu — did not have a significant phonetic difference. Nagasamy says the episode turned out to be an advantage. "By 2013, everyone had heard about us."
Leading the way into the kitchen, past sacks of charcoal, bubbling kadais and vats of payasam topped with puddles of golden ghee, Nagasamy carefully lifts a cloth-covered lid on a large pot of biryani, which has just arrived from the central kitchen.
The room is enveloped in a steamy fog of cardamon, cinnamon and ghee. He uses an oversized spoon to gently stir the meaty rice. "This rice is easily digestible. It absorbs flavours so it's very tasty. And we traditionally make the biryani with boneless mutton as it's easy to cook and eat."
Last year, he opened restaurants in Dubai, Malaysia and Paris. "A lot of our customers in France come from Puducherry and Dindigul. We use the local meat in our international restaurants, but follow our traditional recipe."
He adds, "We still have expansion plans in Tamil Nadu. Salem and Erode are next on the list. By the end of the year, we plan to open 10 more restaurants. Including one in Abu Dhabi, which should be ready to launch in three months."
Although he works with partners for the international launches ("We invest 51% in each one), he keeps the Indian business small and fairly intimate. "We have 2,000 employees, and many of them have worked for us for decades. Till now, I have taken no franchises. It's fully owned by me. So it's my baby," he says, adding with a grin, "So if anything goes wrong, I'm the one who feels the pain."
By another name
Tahari is a vegetarian version of biryani, prepared by adding potatoes to rice. In Kashmir, it is sold as street food and the dish became popular during World War II, when meat was a rarity.
What's so special about Dindigul biryani?
According to legend, the water from Kamarajar Lake in Athoor enhances the flavours of the biryani made in Dindigul.
Traditionally, it is prepared with a superior seeraga samba rice, known as parakkum sittu.
The meat comes from top-class breeds of cattle found in the famous cattle-markets of Kannivadi and Paramathi.